Blue Eyes, Black Hair_2019
Danced adaptation of the eponymous novel by Marguerite Duras.
Concept & Stage Direction: Jérôme Delbey
Set, Costume & Sound Design: Jérôme Delbey
Choreography in collaboration with the dancers
Dancers: Emilie Leriche, Benjamin Behrends, Pascal Marty.
Premiere, April 17th 2019 at Atalante - Gothenburg (Sweden).
© Jérôme Delbey - Blue Eyes, Black Hair -2019
A man, a woman, a room, a bed ... A lot of tears and sometimes desire ... The beauty, the softness and the violence of the human in the pure state, in the naked state ...
Blue Eyes, Black Hair is a danced adaptation of the eponymous novel by Marguerite Duras.
A young woman with a long, supple body, an elegant man, tall too. They meet one evening in a cafe in the seaside resort. He´s desperate, because of someone he saw the same day, who was the one he had always been waiting for. He asks the young woman to follow him and sleep at his side, in the naked room where he lives in front of the sea; he will pay her…
The theme of the play asks the question of love between two people who do not have the same sexual preference. How to accept then that the other does not come closer to his own desires?
In the center of the story, a "funeral place", a theatre scene, a room where love is impossible. Lying, motionless, a man and a woman, blue eyes black hair like "the young stranger" whom they both love, whom they lost and weep for losing. He, depressed, desires nothing from life, is waiting for reconstruction. Ever since he saw him, the man is consumed with desire for the young stranger and finds in the young woman, the same eyes, the same hair.
At the same time the woman weeps over her desire for the man and the man to be prevented from desiring her. Or rather it is said that they weep, themselves do nothing, exposed, sacred, designated to worship. Everything revolves around a terrible and unspeakable moment, when everything has been unveiled and stolen in a flash. This fatal moment, the characters reenumerate the illumination and the mystery, the sudden vision of a man with blue eyes and black hair.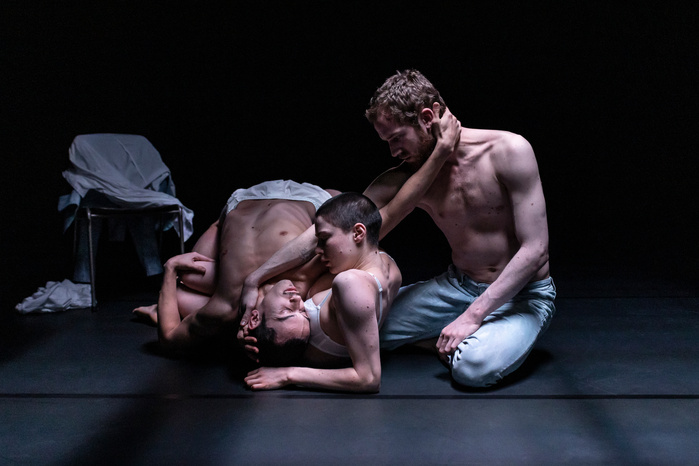 Next:
The Monster in the Maze_2018
See More ›